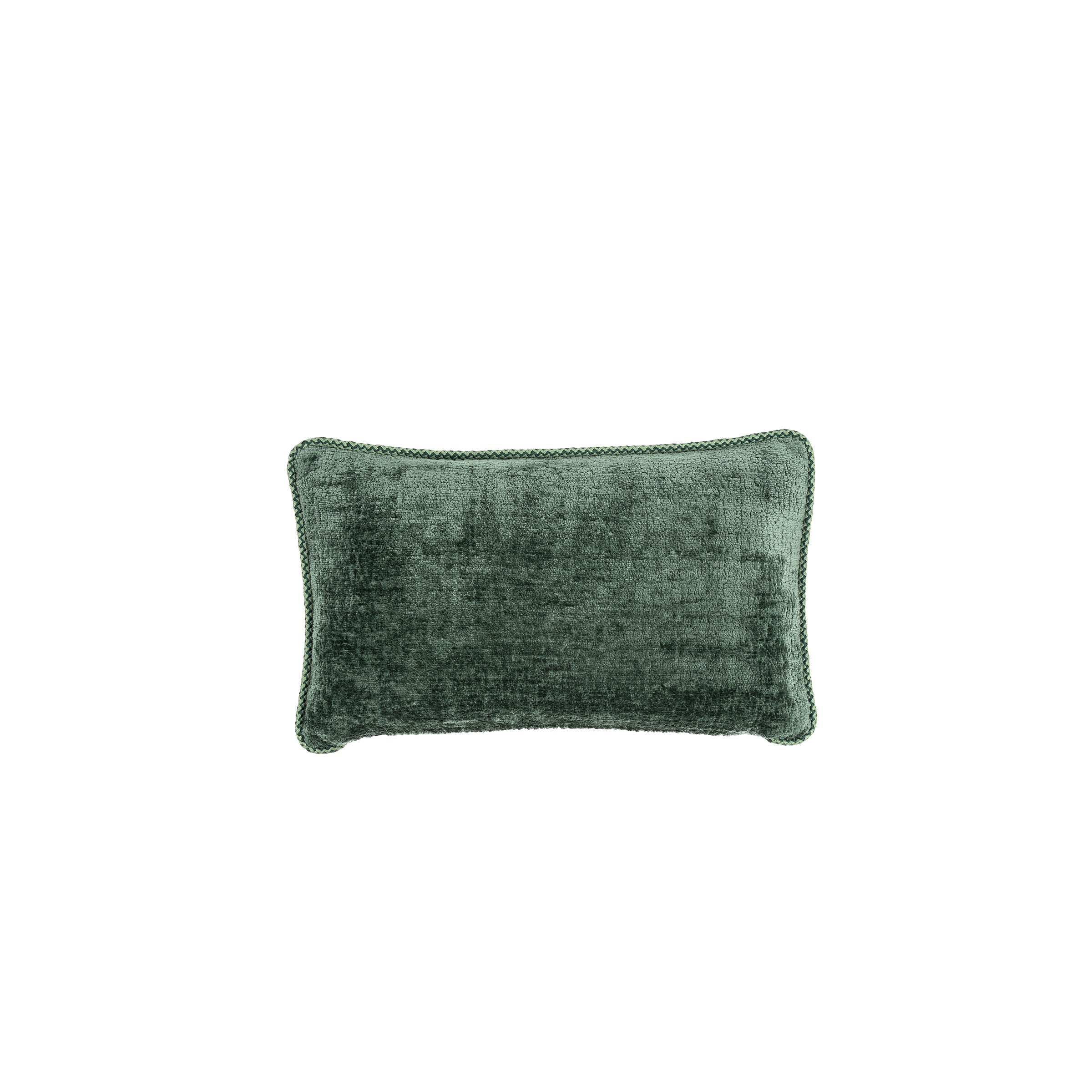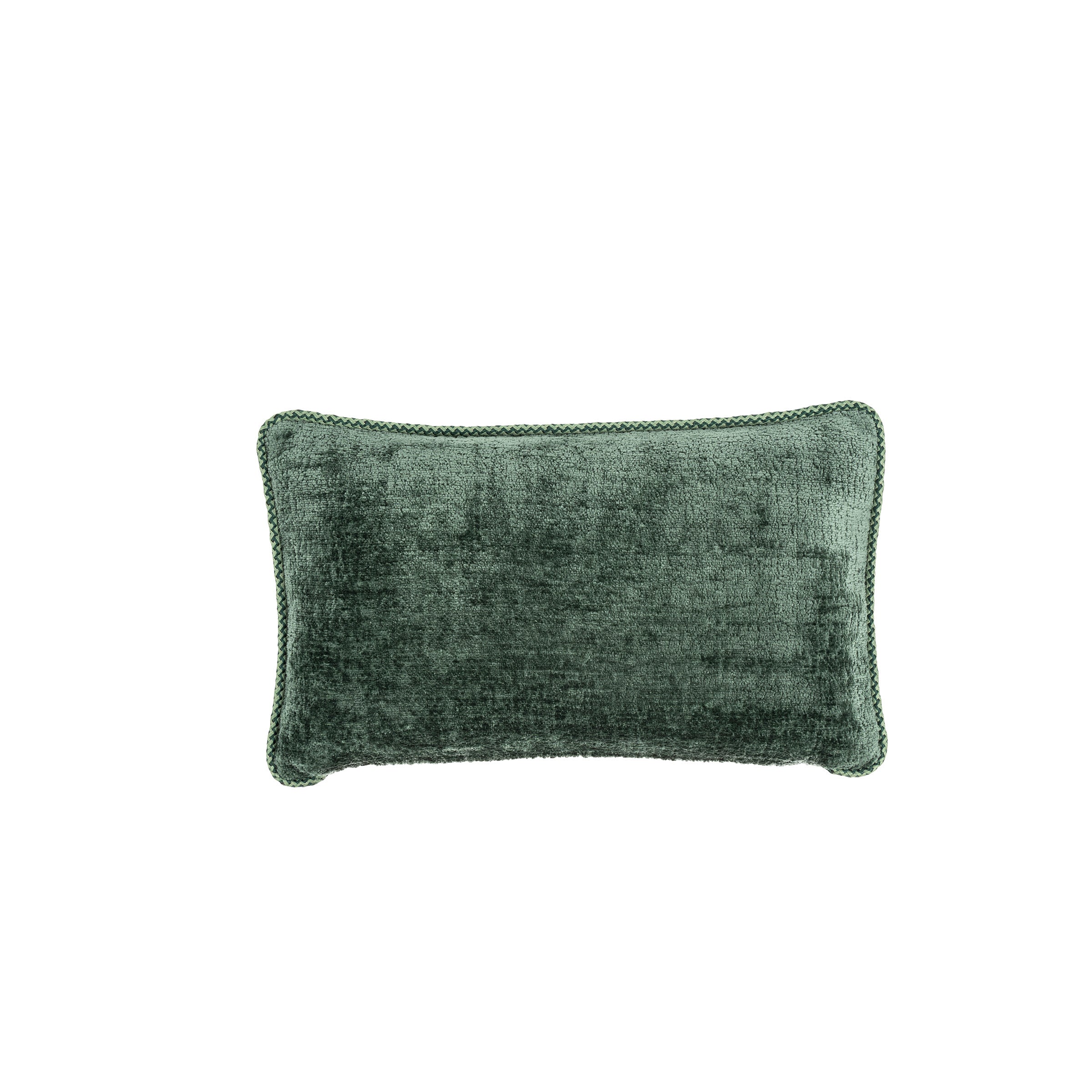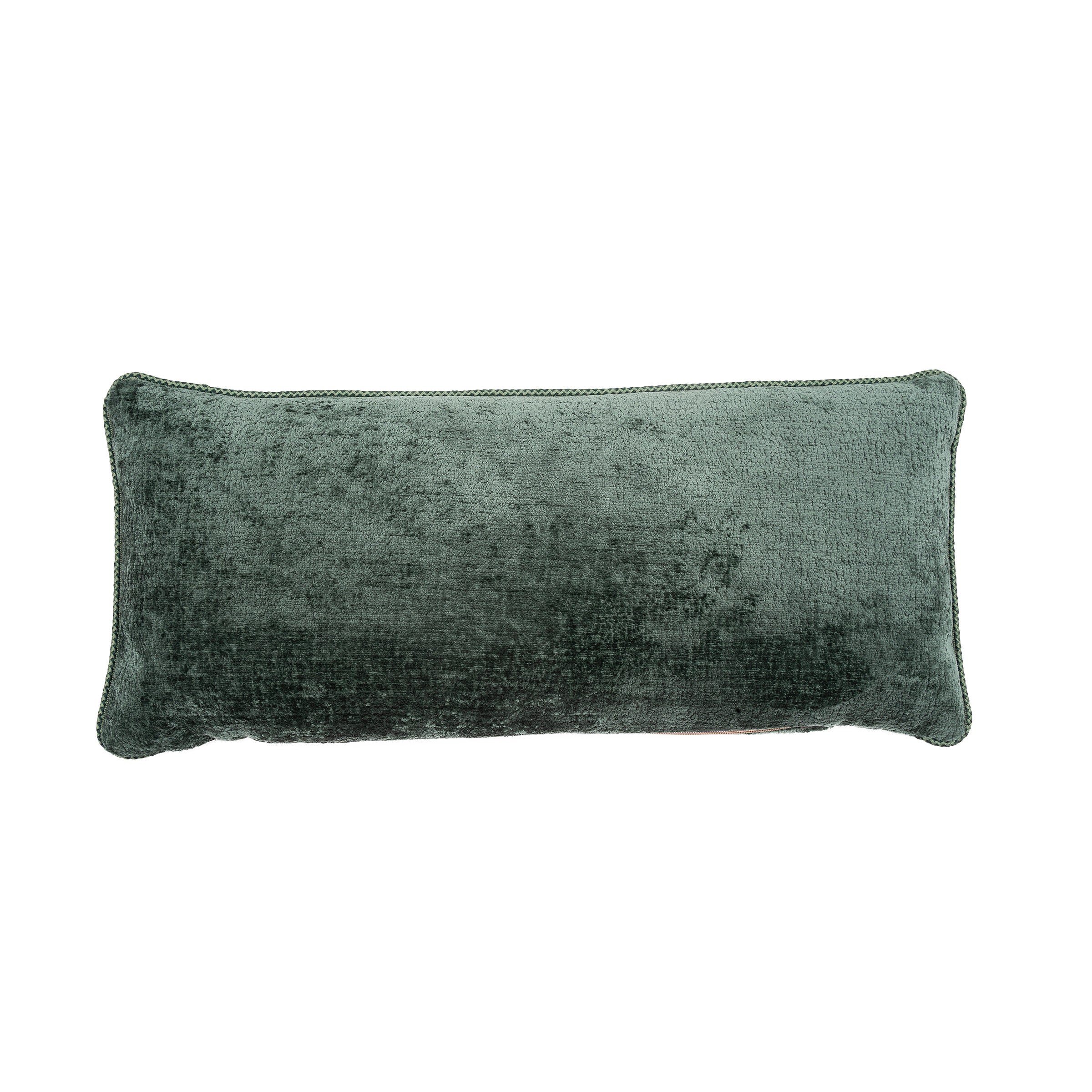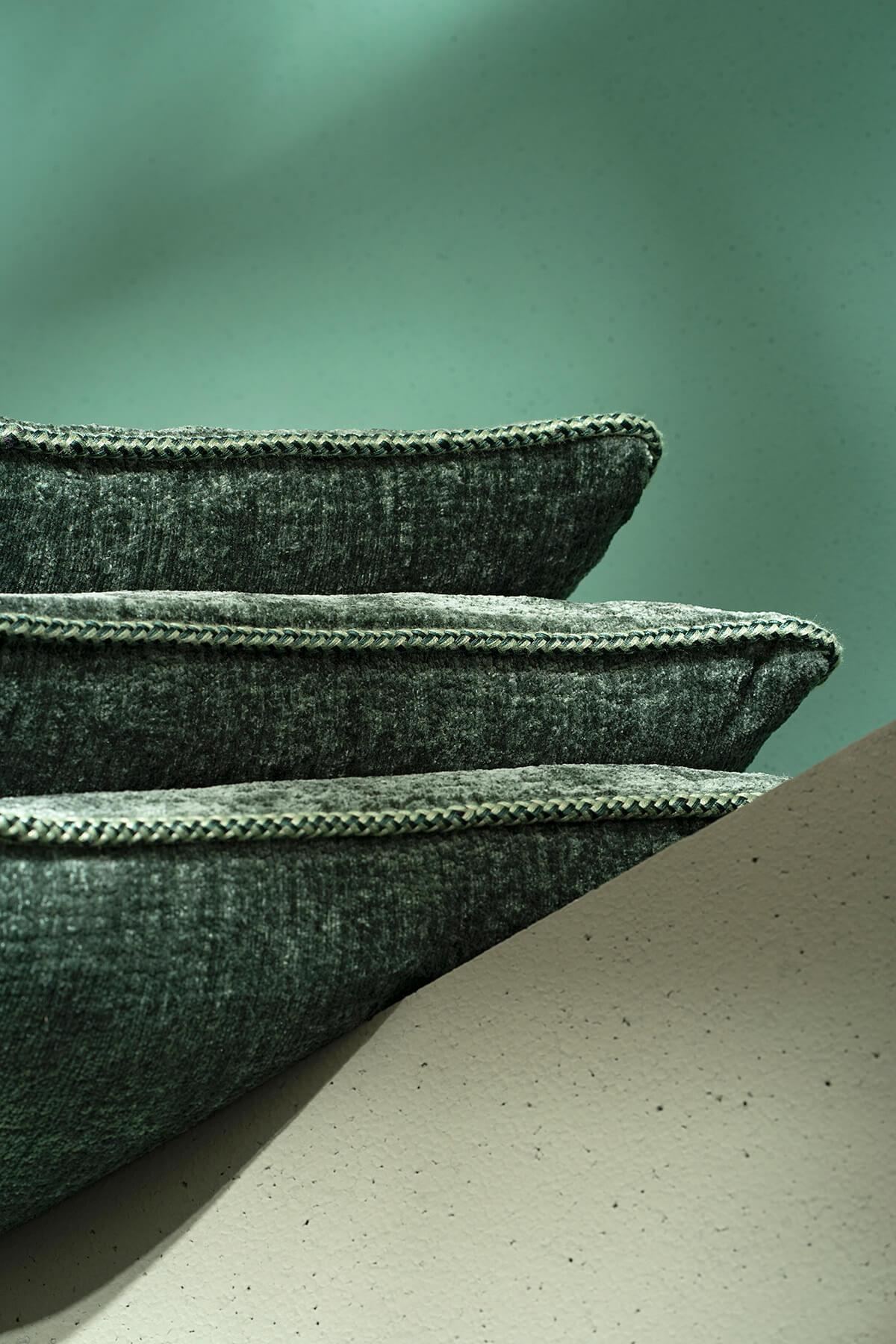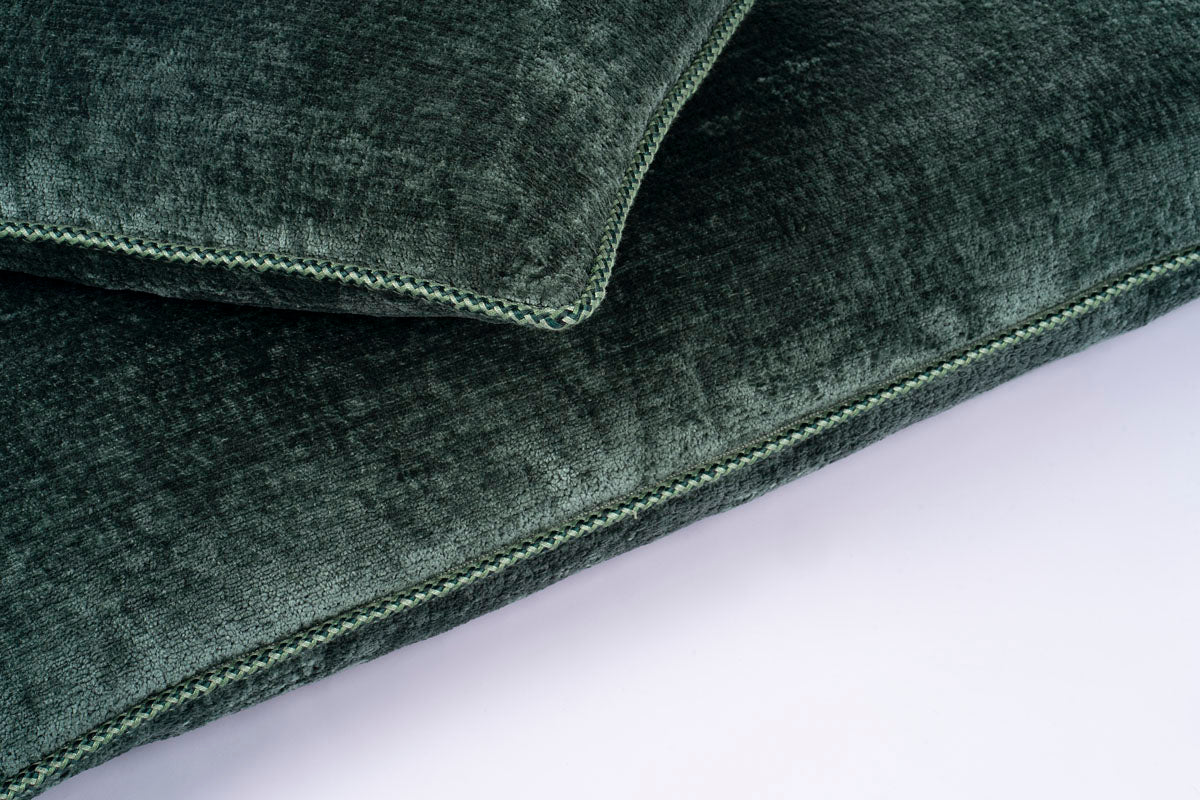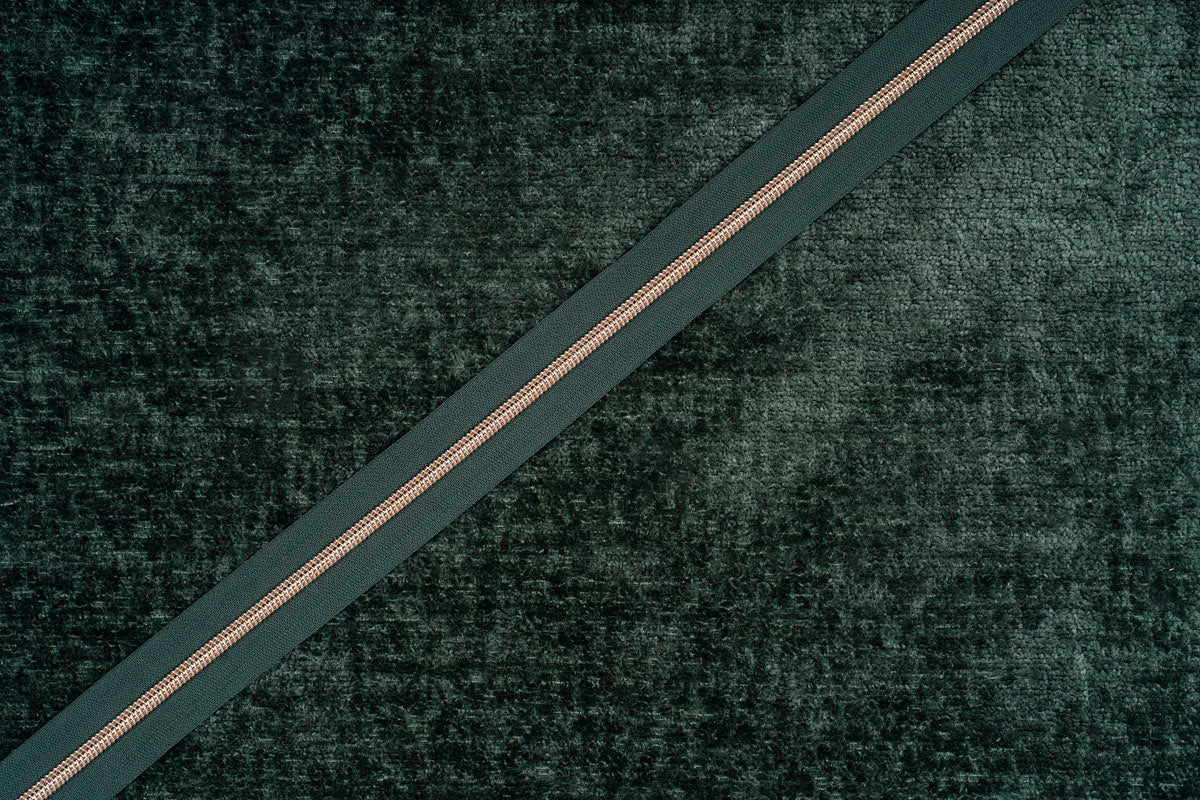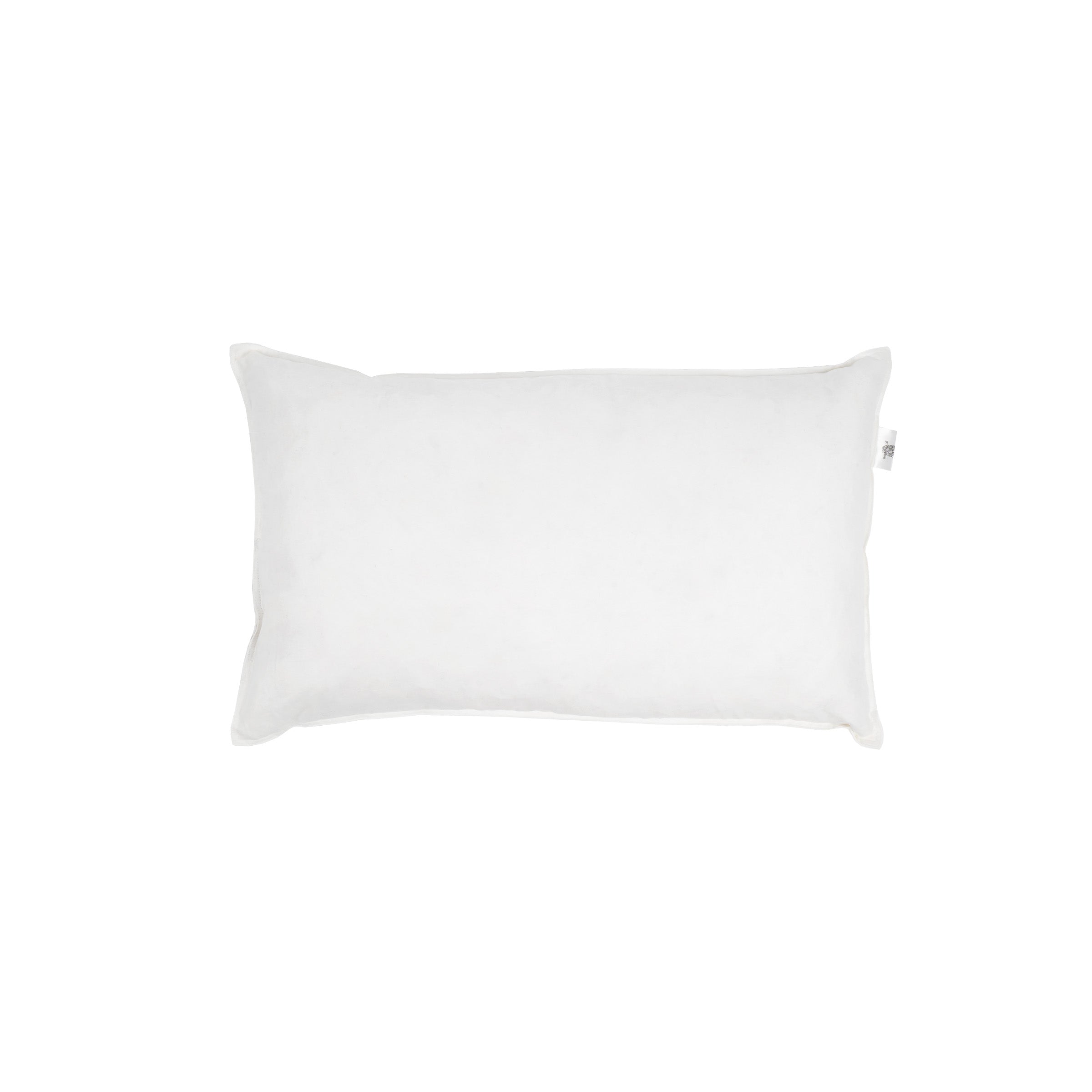 Field Monochrome Forest Cushion Rectangle
Description
Care
composition
Cushion made from soft teddy fabric in Forest. The front and back are both made of textile. The cushion is edged with a tone-on-tone braided piping. All of our pillowcases are lined with a 100% cotton lining. The cover is closed on the lower side with a colour-coordinated zipper.

We recommend our matching pillow fillings for all pillowcases. The filling is exactly adapted to the reference dimensions and due to the higher number of grams than conventional fillings, stability and longevity are guaranteed. Due to the soft feather filling, the pillow easily adapts to the shape of the body and ensures great comfort. It quickly regains its original shape and does not lose volume and firmness.

PILLOWCASE Hand wash, cold Do not bleach Do not iron Do not tumble dry Do not dry clean PILLOW FILLING Wash up to 60° Do not bleach Tumble dry gently Do not iron Do not dry clean
PILLOWCASE Outer: 100% recycled polyester Inner: 100% cotton PILLOW FILLING Outer: 100% cotton Inner: 100% feathers (no live plucking) PIPING 56% viscose, 30% cotton, 14% polyester
Field Monochrome Forest Cushion Rectangle
Lieferzeit
Lagerware + Standardversand
Leder Artikel
7-9 Werktage
Unsere Lederartikel werden immer erst auf Bestellung gefertigt. Wir wollen mit unserem Material sehr sparsam umgehen und nur das zuschneiden, was tatsächlich benötigt wird.
Shipping & returns
SHIPPING
We deliver to the following countries:
Germany: The cost of standard delivery is €6.90 . From an order value of €200.00, shipping is free. .
ZONE 1 EU: Belgium, Denmark, France, Luxembourg, Monaco, Netherlands, Austria, Poland, Czech Republic. Shipping costs: €11.70
Shipping is free for orders over €400.00.
ZONE 1 NON-EU:
Lichtenstein, Switzerland. Shipping costs: €19.80 Shipping is free for orders over €500.00.
ZONE 2 EU / NON-EU:
Andorra, United Kingdom, Italy, San Marino, Sweden, Slovakia, Slovenia, Spain, Hungary, Vatican City Shipping costs: €11.80
ZONE 3 EU:
Bulgaria, Estonia, Finland, Greece, Ireland, Croatia, Latvia, Lithuania, Malta, Portugal, Romania Shipping costs: €11.95
ZONE 3 NON EU: Albania, Bosnia-Herzegovina, Faroe Islands, Greenland, Iceland, North Macedonia, Montenegro, Norway, Republic of Moldova, Serbia, Ukraine, Belarus Shipping costs: €19.70
OTHER COUNTRIES: Shipping costs: €36.50
Shipping costs depend on the country of delivery and the amount of the order. Additional fees in Switzerland for customs and import must be paid by the customer. You can enter different delivery and billing addresses in the checkout. Please note, however, that this may lead to problems with the payment method Klarna (purchase on account).
Within Germany we always ship with DHL (GoGreen). In all other countries we use DHL Express as a service provider.
If you have a customer account, you can call up the current status of your order. You will receive a tracking number with the shipping confirmation, which you can use to track the shipment.
The shipping time of your orders on working days up to 1 p.m. will be shipped the same day with DHL. Delivery by DHL takes place within 1-3 working days. If this cannot be met due to material delivery delays, you will be informed of this by our service team.
Please note that we will only deliver from mid-November. However, you can already pre-order your products in the online shop.
RETURNS
You can return your order individually or in full within 14 days.
Please note that no shipping costs will be covered for returns . The costs for the return must be borne by the customer himself.
Once the return has been accepted, you will receive the purchase amount via the same payment method
refunded that you used to place the order.
If your item is defective or damaged, it can also be exchanged. Please contact our service team by email: service@anothermondaen.de After checking the situation and availability, we will send you the desired item.
Please note that we do not accept goods that have been used or damaged by the customer.
Payment Information
We accept the following payment methods
PayPal
Credit card
Klarna: Purchase on account
Payment in advance
Instant bank transfer
Apple Pay
Further information
Please note that we cannot provide all payment methods for all delivery countries. Whether a payment method is permitted is automatically checked with each order process.
With the payment method Klarna: Pay Later you can order from another mondaen and pay later. You have 30 days from the invoice date to pay your invoice. You only pay when you have received your goods and want to keep them. You will receive the invoice from Klarna by email or Klarna app. You will receive the exact payment information from Klarna.
When buying with Paypal: Here you will be automatically forwarded to Paypal and complete your purchase with your desired and stored payment method.
MATERIAL
One of the most important elements at another mondaen are our materials. In addition to development, the selection of materials takes up the most time.
LearnMore